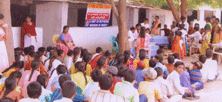 Training & Education Wing
The Thomas Orr School of Education located at Mahaboobabad at Warangal Dist. working among the tribals.
The Mary Orr Technical Education Centre Mahaboobabad at Warangal .
Medical Wing
The Mission has been able to reach many unreachable parts of the state with Teams of Doctors Conducted free Medical camps, Eye camps for Cataract Operations, Epileptic & Psychiatry camps.

Spiritual Wing
Greetings to respected Rev.Thomas Orr & viewers in the dearest name of our lord we are very happy to see that Mission of Mercy is growing day by day by the blessings of the Lord through the prayers.